Check out the article to discover how to optimize your website for Search Engines.
In this article, we will delve into the SEO topic. We will highlight all the main factors that determine the optimization of a website, therefore its visibility in search engines and consequently also its organic traffic.
What is SEO:

The abbreviation SEO stands for: Search Engine Optimization. In easy terms, it means optimizing your site's performance to increase its visibility on the web. So that when users look for your product/service or business name on Search Engines, such as Google, Safari or Bing, your website will rank on top of the web results.
What do you need to know about SEO:

There is good news if your website is currently ranked low in search engine results, you will be able to increase
your ranking by implementing a new SEO approach. The most important thing in SEO is, knowing search engines'
ranking factors – such as keywords & content, engagement & traffic, or domain-level brand metrics – to make sure
your website is seen as relevant and popular by search engines. Here we will share the basics that you need to know to understand how SEO works and some secret tricks that will help your site stand up to the online crowd.
First things first!
Let's analyze which are the aspects to take into consideration for understanding how SEO works.
---

Auditing your website.
The first steps in auditing a website for SEO, it is to learn your current rank, review your website's analytics, and
determine the keywords that will set you apart.
Crawling and Indexing.
Search Engines have automated robots called crawlers that use links to scour the Internet, find web pages, and
decipher page data that are indexed to be included in search engine results.
Discover the cost of search engine optimization!

Ranking.
Each search engine has different ranking factors, but they all have a few factors in common: keywords, content,
and links. Keywords and content are arguably two of the most important factors that search engines look for when ranking pages. Because of this, it is imperative that you know what keywords are in the highest demand within your market and incorporates those keywords into the content on your website. All of your website's content will naturally create a collection of links; search engines use link analysis algorithms that look at the sources, numbers, and anchor texts of links to help determine their relevance in search queries.
At The Digital Hacks, we know it very well, and so we use a pre-established procedure to understand the health of
your website and then act to improve its performance; In order to do that, we work with the most advanced software in order to:
Define your actual website health.
Usually, a score below 30 means your site has multiple critical errors. Between 30 and 70 is a medium score, meaning the website has space to improve on different factors.
A score above 70 results in a high level of optimization.
Check errors that determine a low result for the site: Broken links, wrong keywords, non-correct image size, wrong or missing meta descriptions.
Page Titles.
Meta Descriptions.
The composition of the URL.
Secondary Titles H2, H3, H4 etc…
Visual Content: Number of Images, Videos.
Image Size.
This is an example from a client that came to us for a SEO optimization:
Check your website health 👉 HERE
Then, after having determined and corrected the errors present in the current site, we usually perform an analysis of the market segment to understand and determine which are the most performing keywords for your reference audience and if backlinks are pointing to your site.
Keywords suggestion analysis.
Dive deep into a keyword analysis. Choosing the right keywords is one of the SEO's critical factors. You should select keywords that are truly specific to your business and can allow your site to target a precise audience and web search. All this will help you gain authority in a specific field and will avoid the risk you compete with a broad high challenging market.
Setup Google Search Console.
The Search Console tool can give you a good deal of advice on what is performing well and what is not, on your site. Browse into the performance section of your Search Console account to see which pages are performing better and optimize them for the keywords for the users' search query you are missing.
Another determining factor for Google to define the ranking of your site is the presence of relevant backlinks to your pages. Backlinks are links from an external site to yours. Those inbound links improve the authority of your site, showing Google to consider your content relevant and trustable. When writing content for your blog, always mention your sources. Try to get guest posts on high traffic blogs to build backlinks to your website.
Discover how to build an effective Backlink Strategy here.
Make a website in minutes with Strikingly
Use Featured Snippets when possible.
When you write content, this option can drastically increase your website traffic. Featured Snippets are boxes that appear when you do a web search that shows all requested info without either having to browse the page.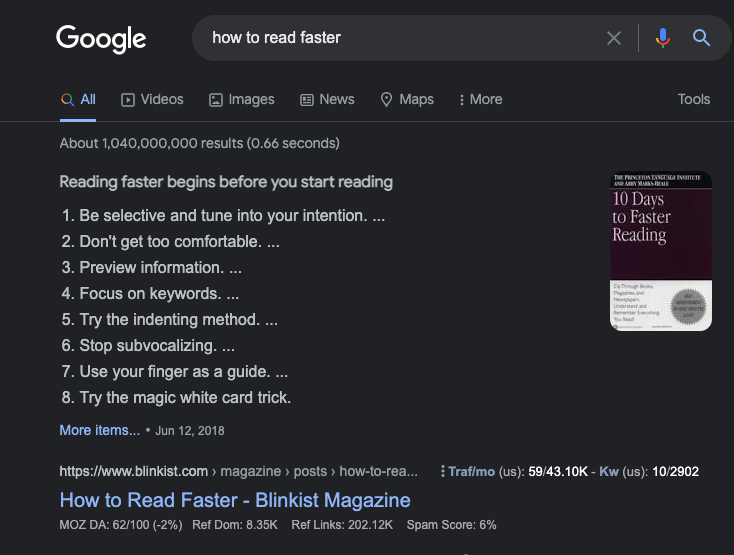 Try to understand what the user is looking for when they land on your site. Create content that meets his needs and is in line with what he is looking for. You can use tools like Answer the Public to figure out what are the most common questions people search online about a specific subject.
Optimize for "People also Ask" section.
You will have noticed the presence of this section in the search results on Google. As explained by Moz, the PAA section has become a major SERP result factor. So try to take advantage of research related to your article by creating and linking content connected to it; or by entering those PAAs and replying directly to them inside your article.
Use keywords that are semantically connected, and are often used in the same context. This helps search engines understand the content of your web page faster.
Accelerate mobile performance and mobile optimization.
Having a mobile-optimized website will help improve your search engine ranking because search engines are
starting to develop mobile crawlers that will create mobile-only indexes. Accelerated Mobile Performance (AMP)
allows for faster rendering of web pages on mobile devices and is recommended by Google. It has three
components: AMP HTML is a simple redesign of HTML with specific AMP commands, AMP JS is JavaScript for
mobile that ensures quick page rendering, and AMP Content Delivery Network will cache your AMP content for fast
delivery. In Google searches on a mobile device, there is now a carousel of search results that only includes
webpages that have implemented AMP. While AMP is not yet a ranking factor, it does drive more traffic and
visitors, especially from mobile devices, where your website is more likely to be a top result in Google's carousel.
As you can see here (in the screenshot below), through this tool we test the speed of the website for mobile
and desktop, we generate a report and based on this we act on factors that slow down the speed of your site.
Name your images with relevant keywords.
When using images, rename them with keywords linked to the content you wrote about, this will give your SEO score a boost.
To help you speed up your SEO best practices, we suggest installing a SEO plugin.
In that sense, we think RankMath for WordPress is currently the most advanced SEO plugin on the market.
Security is one of the most important factors for Google when it comes to ranking your site. That's why you should always configure an SSL certificate for your site. Within WordPress, you can do that through this plugin.
A cache plugin is a necessary component to have a faster website and therefore improve user experience. We recommend this one.
Create your first website, Signup 👉 HERE
An XML Sitemap helps google understand how your site is mapped. Which pages your website has and their location. This is often included in any of the best SEO plugins.
A broken link is one of the most common causes of users leaving a website. Fix any broken links and be sure no external 404 errors appear on your website.
Check on your competitor's best-performing pages.
Investigate your competition. Check for which keywords their best-performing pages are ranking.
Replace your competitors' broken links.
As explained by Semrush in this article, a great tactic to get Backlinks is to find your competitors broken links and try to create content based on those links. Then get your link replacing the broken one.
Use the Semrush tool to evaluate and compare link profiles in-depth.
To sum up. Implementing a good SEO approach is vital for your website. It will help you to increase your Google rank and improve your user's experience. All this will finally result in a growth in traffic to your website.
Would you like to discover more SEO best practices? Read these 33 SEO secrets by Seochatter.