Many words have been spent saying Email is no longer a truly effective marketing channel; But is it so?
We try to analyze the market data and some specific cases.
When the Internet bubble burst, email was the primary corporate communication medium and one of the few marketing channels available online. But Ray Tomlinson, credited as the inventor of networked email, built it in 1971, ten years before the creation of the actual internet.
So, yes, if the internet is old, email it's more!
The term Email Marketing instead refers to the massive sending of emails by a user, for commercial reasons. Normally the purpose is for sale, retention or brand awareness. The use of email has been constant since its creation. In fact, it is involved in registering on any platform and very often each person has multiple e-mail accounts. But even the use of the latter in marketing campaigns has been massive in the last 20 years, even leading many users to no longer recognize it as an effective means. We receive hundreds of emails a day and most of them are not really wanted; many end up in spam, but others clog our mail.
There are many types of emails used for marketing purposes; Let's sum up into:
1- Standard Email Marketing Campaigns.
2- Email Marketing Automation.
3- Transactional Emails.
1- A standard email marketing campaign is generally a one-time email sent to a large audience. It can be scheduled or sent directly to users who have registered on our mailing list.
2- An email marketing automation consists of one or more emails sent in sequence. It can be single, for example a welcome email after a user subscribes to our newsletter. Or they can be composed of more complex automatic sequences of emails that follow specific triggers. As a sequence of 3 Emails in case a user opens the first one or not.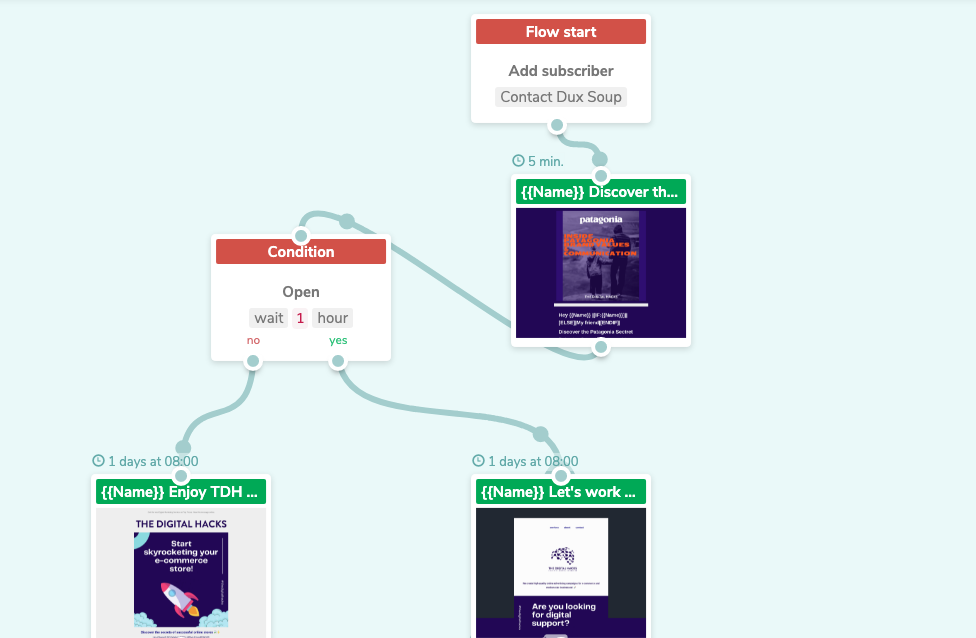 3- Transactional emails are usually triggered based on a customer's action on a company's website. They are very common in e-commerce, in particular, where the latter are customised according to the product we look at on the site. For example, if on a web shop we look at a pair of shoes, and then we don't buy them, we will receive a specific email that will remind us to buy that product.
While it is true that nowadays receiving an email is so standard that most are not open, email marketing is still a very effective means in terms of low costs. It remains clear that our perception is not the same in receiving an email as a WhatsApp message or a DM on social media channels, but if we can position ourselves well in the minds of our consumers and maintain valuable communication with them, the opening rates of our emails will stay high.
From a report conducted by HubSpot, 64% of small businesses use email marketing to reach customers and 74% of Baby Boomers think email is the most personal channel to communicate with brands. Statista in the 2021 annual report declared that the global e-mail marketing market was valued at $7.5 billion in 2020 and is projected to increase to $17.9 billion by 2027. Moreover, it appears that the U.S. spent over 350 million dollars on email advertising in 2019. In addition, a study by the Content Marketing Institute reported that 81% of B2B marketers say their most used form of content marketing is email newsletters.
As these statistics show, it seems email marketing is far from dead. So what you have to pay attention to is its use. You have to be relevant in your communication and not want to sell at all costs.
Hence, let's see some best practices to follow when building an email marketing campaign:
A) Don't buy list from online database.
This practice is ineffective as it has often been shown that most of the emails we don't open come from unknown senders. In addition there is also a high probability of ending up in spam or worse being blocked as its against GDPR low.
B) Avoid using some words in text and subject copy.
Words like "no reply", "Extra income" "Make money" or similar increase the chance of being reported as SPAM.
C) Always add a signature.
Always try to add a signature with your personal contacts at the end of each email.
D) Set-up a Personal Sender account.
Emails sent from a personal account have been shown to have higher open rates than emails sent from general corporate accounts.
E) Get straight to the point.
Do not write endless emails but above all get to the point in the first lines of text. It is important that the user immediately understands what it is.
F) Test some variables.
In marketing, A / B testing is essential. For example, try different subject lines and see which campaign gets the highest opening rates.
---
Start with Sendpulse Email Marketing Tool
---
G) Give value.
Users will open your emails if they are interested in what you write to them. So always try to offer value. Market research, news, discounts etc … offer what your subscribers are interested in.
H) Customize your emails according to the type of customer.
Try to know your audience, add tags and segments and create different campaigns following them. Use transactional emails, customized according to what the customer is looking for on your site.
I) Check Data and Reports.
Consult campaign reports to see the impact of the variables used.
J) Timing and Consistency.
Understand what is the best time to send an email and stay consistent in the week or month so that users will get used to it and know they are receiving an email from you.
K) Signup for a good Email Marketing Software.
There are many Email Marketing tools out there, which is why it is important to adopt a good one. We recommend Sendinblue for its ease of use, reasonable price and great performance.
Signup to Sendinblue now 👉 CLICK HERE