Do you want to launch your new online store but don't know which of the two platforms is the best? Let's analyze the two options together.
WooCommerce vs Shopify! 😵
WordPress is the most used CMS in the world. Nowadays, nearly 64 million websites are built on WordPress. Of these, 5+ million use the WooCommerce plugin to integrate their store.
On the other hand, Shopify is one of the most common platforms to create eCommerce. This year over 5,300 Shopify Plus stores have been registered worldwide.
Both options are great, and we recommend one or the other depending on the characteristics of the project and of course, the client's will.
Let's analyze the two options in detail one at a time to see in which cases to choose one or the other.
Ladder of the Article.
General Introduction.
1: Design Differences
2: Hosting
3: Pricing
4: Features & Integrations
5: Usability & Performance
6: Support
7: SEO
8: Payments and Fees
9: Security
10: Suggested Plugins & Apps
11: Development
Conclusion
General Introduction.
WordPress + WooCommerce:
For projects with a small budget and a limited number of products, WordPress + WooCommerce is an optimal solution. With WP, there are no subscription costs, the only cost is the hosting of the site and its development.
For design customizations, we often rely on the Elementor website builder plugin.
It often happens that a customer contacts us who already has a website on WordPress with the need to add the shop to it. In this case, we use the WooCommerce plugin to create the store.
Shopify:
Shopify was born as a platform to create e-commerce; hence the entire interface, plus its functions, are intended for this purpose. The platform is self-hosted, so buying a hosting space it's not needed.
Shopify it's been used to build from small & medium size shops to large eCommerce with 50k+ products.
1: Design Differences
WordPress + WooCommerce:
WordPress, being an open-source platform, allows you to implement almost any kind of customization. This is a great advantage for all users who love eclectic designs and want to give their shop a unique and particular look and feel.
WooCommerce is a plugin created by the developers of WooThemes and then bought by Automattic, the parent company of WP. That means that all the aesthetic parts of the WooCommerce shop currently depend on the WP theme customization.
Almost any theme can be integrated with WooCommerce. Pricing for a theme can start from $0 up to $60+ depending on features and industry.
For design-wise we recommend using the Elementor plugin available free for the basic version and from $49 x site with the Pro version.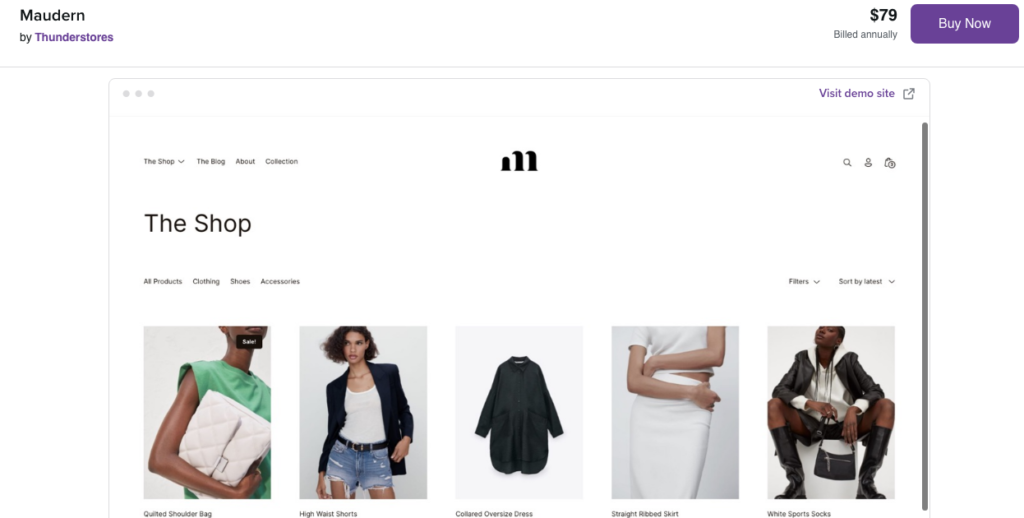 Shopify:
In terms of design, Shopify offers themes of the highest graphic quality. Among the e-commerce-based platforms, it is certainly the best from this point of view.
However, it should be noted that compared to the offer available for WordPress + WooCommerce there is no correlation from this point of view. The themes offered on Shopify are much more restricted, and if you want a particular design, the cost can exceed $100 + for the purchase of a theme. However, it should be pointed out, that each theme is customizable through the editor section, but the possibilities in this respect remain more limited than in WP.
As a Shopify design builder, we suggest you use PageFly, an easy-to-use drag-and-drop builder that will make your life easier in implementing your site.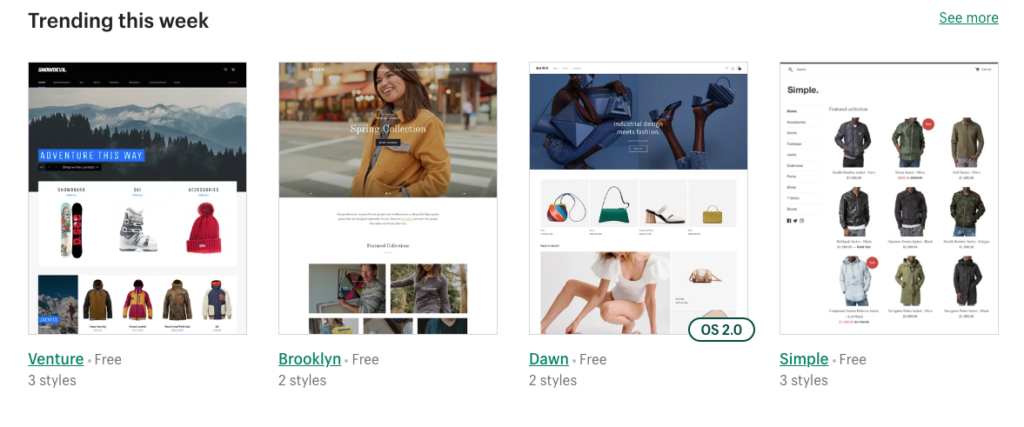 2: Hosting
WordPress + WooCommerce:
Once creating a WordPress site, you would need to register also to one of the many hosting providers available on the market.
Free, Shared, VPS, Dedicated, or managed WordPress hosting.
Choosing good hosting is crucial to the performance of your site concerning SEO and loading speed.
Several great hosting providers offer these options, of course, the choice depends on the budget and size of the eCommerce site.
VPS and Dedicated Hosting are recommended for large-size eCommerce and can cost between $20 and $100 per month. Shared hostings are ideal for small-size shops with few products in their inventory.
See prices and characteristics of the most common providers here in the following tab.
Shopify:
Unlike WordPress, Shopify is self-hosted, which means that you don't need to purchase any hosting service for your site since it will be hosted on Shopify's servers.
Using Shopify, you will be sure to have included in your plan:
Unlimited email forwarding.
Secure Hosting.
Instant Updates.
3: Pricing.
WordPress + WooCommerce:
As always pricing it's a huge determinant in business. From that perspective, many users opt for WooCommerce because it's an open-source plugin that doesn't require any subscription payment.
That's for sure correct. But it's important to underline, as well, that WooCommerce, and in general the WordPress CMS, come with many additional ongoing costs.
When you decide to build your new store on WooCommere you will have to take into the bill: Domain, Hosting, SSL, Maintainance and eventually any premium Plugins.
Starting at no cost, you can easily find yourself paying $20-$100 x Month.
Shopify.
While with WP you will know your ongoing costs only after you start developing your site, Shopify makes it clear from the beginning.
The Canadian company made pricing clarity a vital aspect of its marketing strategy.
Once signing up with Shopify you will have 14 days trial, after that, you can move on with one of their four plans.
Lite $9 x Month, Basic $29 x Month, Shopify ($79 per month) and Advanced Shopify ($299 per month).
4: Features & Integrations.
WordPress + WooCommerce:
This is undoubtedly the strength of this solution.

This is undoubtedly the strength of this solution.
Being open-source, WP + WooCommerce, allows its users to customize and integrate the platform almost in any possible way.
WordPress offers an incomparable choice of plugins that will give you the possibility to add any kind of function to your site and connect it to every external platform. Some Plugins can require premium plans, but most of them are available for free for basic features.
Available for Physical products and digital products

No products number and categories limit

Integrable with any 3rd party plugin
Recommended for affiliate marketing

Works with all WordPress theme

All payment gateways are available
Editable shipping rates and taxes
No products number and categories limit
Stock levels control
Mobile-friendly structure
Data Control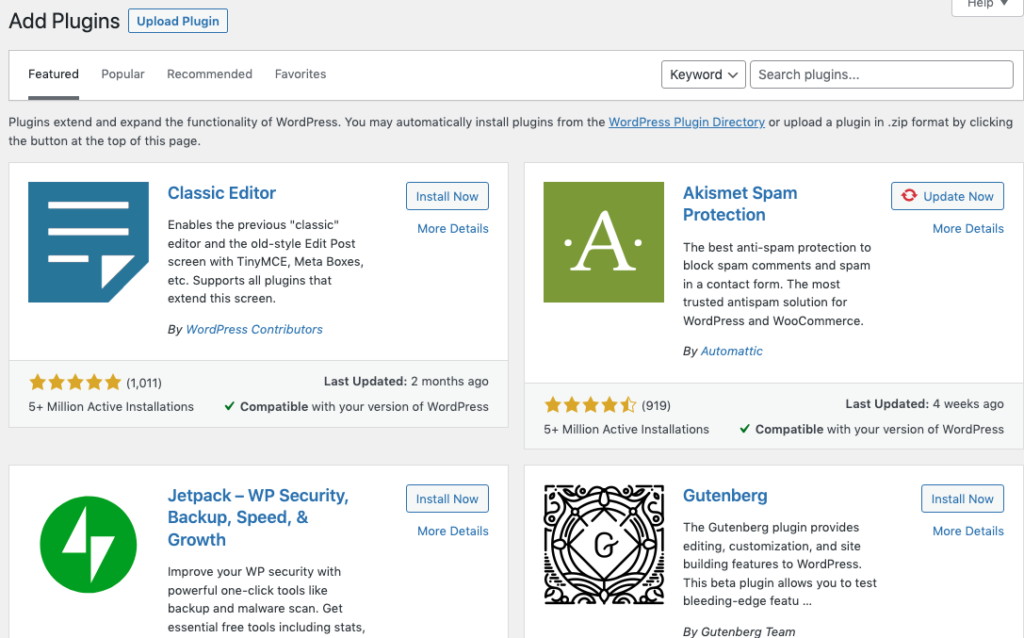 Shopify:
Shopify has 1,000+ free and paid apps that are all great solutions. Be aware that, usually, the first apps appearing are the promoted ones. So always look for the top-reviewed to assure choosing the highest quality ones.
WP + WooCommerce surely gives more options on the integrations & features side but has to be admitted that all apps offered by Shopify are usually more than enough to build a high-performing webshop.
NO products & storage limit
Customer profiles
Drop shipping
SEO
Facebook & Google Marketing module
Social media integration
Physical and digital products
Unlimited traffic
Backups
Reports

Apps Marketplace

Product importing via CSV files

Product variations
Manual order creation
Coupon codes
Blog module
Free SSL certificate
Mobile commerce optimization
Editable HTML and CSS
All checkout payments methods are secured via Stripe
Multiple languages
Editable shipping rates and taxes
Print orders
Inventory management
Gift cards (Advanced Plans)
Abandoned cart recovery (Advanced Plans)
5: Usability & Performance.
WordPress + WooCommerce:
Regarding this aspect, some basic digital notions are certainly necessary to manage a shop on WP + WooCommerce. The platform, in fact, needs constant maintenance, updates and backups are fundamental aspects that cannot be neglected and if you are not practical you must consider this aspect.
If for technical aspects a webmaster supports you, and you will only be entrusted with the management of the shop, as far as product loading is concerned, the interface is quite intuitive.
Process:
Register a domain name
Get a hosting account
Install WordPress
Buy a WordPress theme or get a free one
Add WooCommerce Plugin
Configure Shop
Regarding the performance, of WordPress, if you put your hand on it, you can achieve extremely high results in terms of website speed, SEO and user experience. As mentioned, the risk with this platform for those who are less experienced is either having to pay for a constantly optimized site or the risk that the site's performance will drop dramatically over time due to lack of care.
Shopify:
Shopify has made ease of use one of its most decisive assets. The platform is explicitly created for any person to be able to start selling online. The activation process is easy and quick, plus you will have two weeks free trial.
Once the configuration is done, adding products will be intuitive; all product page boxes that you have to fill appear on one page, and you must just add the product information in the different fields.
Process:
Signup to Shopify
Add your domain or register one
Buy a Shopify theme or get a free one
Customize Theme
Add products to your Shop
6: Support
WordPress + WooCommerce:
Also, on this point, there is a profound difference between the experts of the network and the low-tech ones. In fact, WordPress being the most used CMS in the world has an immense community of developers and technicians available for advice and help, but all this cannot be solved with a direct and immediate call-proof support channel. So for all the information, you will need, you will have to search the web to know where to find it.
Shopify:
Shopify instead has a direct support channel included in the monthly subscription. We have to say that the platform support is really fast and efficient. Available for online chat, phone or email. Surely, for the less experienced, this is an extremely important reassurance when deciding on one solution or the other.
7: SEO.
WordPress + WooCommerce:
WordPress has the best search engine optimization capabilities on the web. The platform can be highly optimized for Google and other Search Engine. Thanks to Plugins like Rank Math or Yoast and following all on-page and off-page recommended SEO practices your webshop can achieve the top level on Google search.
Shopify:
In terms of SEO features, Shopify likely comes next, but we also need to point out that one of the main website optimization factors is site speed, and the latter with Shopify you can be sure you've got that covered.
8: Payments and Fees
WordPress + WooCommerce:
With WooCommerce you will have endless payment gateway possibilities. Stripe and PayPal are the ones embedded as default, but you can easily add Amazon Pay or any other suitable checkout option via WP Plugin.
You can also take advantage of the WooCommerce POS service for in-store transactions. And it hosts a range of providers that offer in-person card processing capabilities.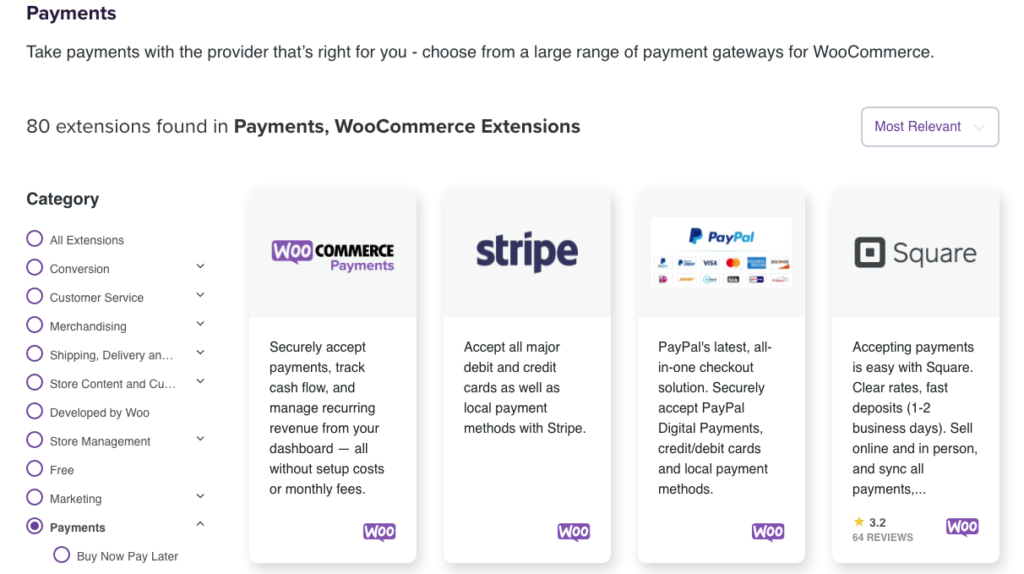 Shopify:
Shopify's payment gateway, it's powered by Stripe. In that sense, you can be sure to be able to handle almost any credit and debit card payments. You would need to connect Shopify Payments to your bank account, and it's all done.
Regarding payment fees, as stated by the platform: "for stores located in most countries, you aren't charged transaction fees for orders if you're using Shopify Payments. If you deactivate Shopify Payments and enable an external payment provider, then you're charged a transaction fee for your orders going forward. This transaction fee is determined by your store's Shopify subscription plan".
Ok, now comes the bad part.
Shopify Payments is indeed a good payment processor but unfortunately is not really available anywhere.
To be specific is only accessible in the UK, US, Spain, Singapore, New Zealand, Japan, Ireland, Hong Kong, Canada, and Australia.
Sure is that you can integrate a third-party payment processor on Shopify, but the cost will increase significantly.
9: Security.
WordPress + WooCommerce:
Online security is an extremely important point for any website owner.
For this reason, within WordPress, many plugins can help you maintain protected your site.
It should certainly be emphasized that, also, in this case, some basic notions are necessary to keep the site safe from possible hacker attacks.
General basic security practices will include getting an SSL certificate and ensuring that your hosting provides a secure server. Plus, configure a two-fact authentication process.
Shopify:
Shopify, as a self-hosted platform, manages security for you.
The platform comes with an SSL certificate and is PCI-DSS compliant (which means payments are secured).
Breaking website security on a Shopify website would only be possible if there is a bug in their systems (which is very difficult) or, more likely, by user recklessness (accessing public Wi-Fi, saving passwords in insecure places).
10: Suggested Plugins & Apps
WordPress + WooCommerce:
Plugins in WordPress are external software available to be installed into the platform that allows you to add functions to your website.
Here is a little list of our favourite ones for the most common functions:
Shop: WooCommerce
Design: Elementor
SEO: Rank Math
Security: Sucuri
Analytics: Monster Insight
Lead Generation: Mail Optin
Notification: NotificationX
Backups: Updraft Plus
Web Chat: Chaty
Shopify:
Those on WordPress are called plugins, and in Shopify are called Apps. The concept is the same.
Check out our recommended ones:
Design: Page Fly
SEO: Booster SEO
Marketing: Facebook App – Google App
Reviews: Loox
Web Chat: ManyChat or Tidio
UpSell: Bold Upsell
Email Automation: Rivo Abandoned Cart Recovery
11: Development
WordPress + WooCommerce:
Given the infinity of development possibilities on WordPress, the time and knowledge for developing a website on this platform are more extensive than its direct market rival.
Developing a website in WordPress + WooCommerce normally require between 1 and 6+ weeks.
Most depend on the number of pages and content on the site. In particular, a lot depends on the number of pages and the contents of the site. In addition, another important variable is given by the customisations you want to the source code of the theme. To speed up the design part we always recommend using a design-builder like Elementor.
 

Would you like to build your new online store? 




Get a 30-min consultation with an expert 👉  FREE CONSULTATION 📞
Shopify
Shopify in terms of development time is a much faster option. Plus, it gives you a 2-week free trial to start building your site. The platform offers dozens of pre-made themes for different industries from Art & Photography to Clothing & Fashion and Electronics. If you enjoy building your store yourself but are not an experienced developer, we recommend using PageFly as a drag-and-drop page builder. Otherwise, the suggestion is always to rely on an expert agency like TDH to help you with your digital project.
Would you like to build your new online store?

Get a 30-min consultation with an expert 👉 FREE CONSULTATION 📞
Conclusion
Building a new e-commerce store from scratch can be stressful and time-consuming. Before choosing any platform, it is important to have clear the proportions of the store, the special customizations you may want to have, the budget for the project and your experience in managing an online shop. These components are determinants for choosing between WordPress and Shopify.
If you are still confused about choosing between one platform or the other get advised by an expert HERE.